Delhi does India proud. It boasts wide open roads, endless flyovers, a metro network covering nearly the entire city, and of course the envious, green and beautifully laid Lutyen's zone.
Yet I believe, within two years, Delhi will be 'grid-locked'. Traffic during the day will move in inches, and not miles.
Signs are already evident.
Within the last two years, average speed has dropped significantly. Distances which Delhites covered laughing all the way with their foot on the car's accelerator pedal, now seem painfully far. Traffic comes to a stand-still for slightest of bottlenecks – a broken car, partly dug sidewalk, slow moving traffic ahead, water logging.
Worse, there's little scope to improve things any more. Roads are as wide as possible. There's little scope to construct

new flyovers as nearly all crossings have one. Metro, which would soon cover nearly entire Delhi and carries 15 Lakh commuters, is already jam-packed during peak hours.
What's caused such a dramatic change?
Not the Common Wealth Games 🙂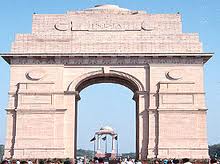 Key reason is the unprecedented growth in number of private cars. Over the last two years, Delhi has added no less than 7 Lakh cars. Another 5 Lakh cars will be added over next 12 months itself. (Sigh!)
There is another reason.
In 1985, Delhi = 'New Delhi' + 'Old Delhi'. Its population was 5 million. DTC, or Delhi Transport Corporation, had 5,000 buses to meet public transport needs. Private cars barely numbered a couple of laths. (Maruti started production in 1984; prior to that, India produced only 35,000 cars annually.).
Now? 'Delhi' means New Delhi, old Delhi, Noida, Gurgaon, Ghaziabad, Faridabad, et al.  Population has quadrupled to 20 million+.
Strangely, the number of DTC buses has shrunk. To barely 3200. Even after you add the DTC hired blue-line buses, the figure doesn't touch 5000.
On the other hand, the private cars now number 3 million – a 15 times increase in 25 years!
Stuck in long traffic jam three days back, I asked myself: Is there any relationship between 'too many cars' and 'so few buses'?
That is, did the lack of buses made people opt for cars; or the increase in cars prompted DTC to not add any more buses as nobody would have used them?  
What do you think?
Here's my view.
If DTC were to keep pace with just Delhi's population, it should have had 20,000 buses on road today. Considering the improvement in lifestyle and growing income, at least half of these buses should have been air-conditioned.
"But isn't the government doing just that now? There are so many new green and red buses now?" you'd like to question.
Unfortunately, the buses total just 3,106 (according to DTC's website).
Now that we missed the opportunity to add buses, what should be done to avoid the catastrophic consequences that are bound to befall Delhi?
Here are a few suggestions:
Create footpaths, which are evenly constructed, clean, well-maintained and available to public. With lots of trees on them. Some of them could even have artificial roofs to keep the sun-off.  So we can walk on them comfortably, and without the fear of being knocked down by speeding traffic. Remember, Delhi has pleasant weather six months in year. Good quality footpaths will bring back the joy of walking.
Make the traffic 'horn-free'. If there's one reason I hate to walk is the deafening noise of honking. Do whatever – tax it, ban it, it must be stopped! With the same kind of determination we demonstrated to get Delhi rid of pollution. (Delhi is the only city in the world where all commercial public transport vehicles run by CNG.).
Create dedicated pedestrian signals. Mumbai is full of them, so is Bangalore. But Delhi has almost none. It's impossible to cross a road without running, or without criss-crossing through numerous vehicles. In fact, the easiest way to cross a road in Delhi is to drive from one side of the road to the other! Dedicated signals will not only help pedestrian cross the roads safely, but also force motorists to respect the rights of others on the road. The latter is desperately required, especially to tone down the 'aggressive inclined' Delhites.
 
New way to look at bus service:  Allow at least three-four large private operators to offers bus service. A

private-public model can be used where the two cooperate to offer quality bus-service at same price as DTC. Government could support by providing bus depots, investment in buses, while the private partner can focus on management and service. To illustrate: DTC has a fleet of 3106 buses and 773 routes (this is from DTC's website). This works out to barely four buses per route. Certainly, not a very efficient way to serve passenger

New buses introduced have brought much comfort

needs. We have to remember that competition for bus service in Delhi comes from privately owned vehicles that take people from their residence's doorstep to the parking lot of their office, cocooned in the luxury of their modern cars. To wean such people, the bus service has to be planned like airlines plan their routes and time. Both the quality and the comfort, and the reliability and frequency have to match what commuters are going to leave behind. In fact, it needs to be modeled like Cineplex's which got the audience back to cinemas by offering viewers superior experience.

Create pride in using public transport. Let m illustrate this. When Bangalore launched its new airport 2 ½ years ago, the Bangalore Metropolitan Transport Corporation (BMTC) introduced special, air conditioned airport buses from 9 different parts of the city. The bus service has become very popular. It also saves the city at least 5,000 private car trips to and from the airport EVERYDAY – what better way to protect environment! Every time I use the airport bus, I feel I've not only saved 70% of the money I'd have otherwise spent on a cab, but also feel I've taken a 'green decision'.
Unless we do something quickly, Delhi will die. Sadly, other cities will not be far behind.
Dilli Door Hi Reh Gayi – could be next new phrase to go into history.  
Please share your views. I'd to take these to Delhi's Chief Minister.