If you were a CEO of a company, you'll realize that caring for customers is becoming increasingly expensive. At the same time, pressure to earn more profits continues to soar (have you come across a company that projects a reduction in sales or profit in future?).
There is a third angle too: customers now have a stronger voice than ever before. Sample this conversation, overheard at Croma store in Bangalore:
Sales person: "You get one year manufacturer warranty. Plus, you can pay an additional Rs.300 and get 2 years extended warranty."
Customer: "If I don't take the additional warranty, will you not repair it?"
Sales person: "Extended warranty will ensure that repairs are carried immediately".
Customer: "Even without extended warranty, you better repair it immediately, else I'll make the company miserable! I don't want the extended warranty."
This is true: if a customer is not attended satisfactorily, the brand may not survive to see better days, notwithstanding their positive, growth forecasts!
Yet, every single service brand I use has been cutting down on customer care expenses.  Especially, when it comes to listening to customer problems.
How?
By pushing more and more onto IVR. No human intervention. Extra-long IVR menu. Your call is important but all our customer care executives are busy… etc.  By having wonderful website, but no details of the person you can contact in case you have a problem. By having a helpline (alright), but not having enough callers to take those calls, so either the phone keeps ringing, or is busy. (By the way, the phone is never answered by a person; it's answered by a recorded voice, generally that of Ms Komal G B Singh. Wonder how she manages to be the helpline voice of so many brands, including those that compete with each other!).
Even the brands who manage to actually do a good job of their customer help-lines, their handling of customers leaves much to be desired. Here are few examples:
a.       The option to speak to customer care executive given the least priority, often appearing last. In case of RBS (formerly ABN Amro bank), the option doesn't exist! I've complained about this to them several times, both over phone and via email. Yet, no explanation has been offered, nor situation rectified.
b.      It generally takes close to 5 minutes before you actually get to speak to a customer care executive. First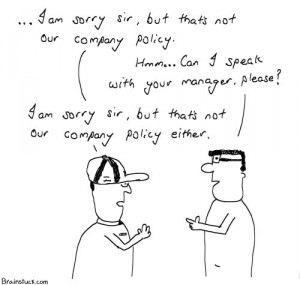 there's long wait for someone to answer; then plethora of IVR options to discourage you to speak to an executive. And if you still manage to reach and select that option, there is still the our customer care executives are busy attending calls from other customers hurdle to cross! As you wait for these VIPs to spare some time for you, you are made to listen to several ads and messages the brand wishes to share with you (their customers) so you can be served better!
c.       Last week, I called Airtel to request them to change my broadband connection into a wireless connection. I spent a total of 17 minutes to get this message through. Four times the line got disconnected! Also, each time I chose the option to speak to customer care executive, a recorded voice was kind enough to inform me that I'll be charged 50 paise per call! How cool – pay to complain, pay  even to give more business!
d.      There is another innovative dis-service all brands offer their customers: the authority their customer care executives enjoy. They are often referred as officers or relationship executives, they have absolutely no power to solve customers' problems. Much like the 'clerks' we dealt with when dealing with government departments – complete jerks!
e.       Brands, especially services brands like banks, have found another ingenuous way to make their customers hate them. On one hand, they run fantastic advertising campaigns extolling the virtues of how much they care for them, and on the other hand, they encourage multiple call centers of theirs to irritate these very customers with numerous unsolicited calls, trying to up sell and cross sell their products. Daft!
How far do you think these brands will go if they treat their customers with such apparent disdain? Customers can actually hasten the brand's demise if they don't look fter them!
Let me share four examples on how customers can make the brands regret their indifference to its customer:
a.       Customers have discovered internet. A café chain provided poor service, and then decided to be a little rude to a group of customers. The customers started posting hate messages on Facebook about the cafe. They even made their friends to do the same. The café relented in no time, apologizing for its action and promised to be caring future.
b.      On a recent visit to my bank, the bank employee decided to treat me quite badly. The executive behind the counter was not only uncooperative, but even rude. I found out the branch manager's email ID, and sent him a mail. Simultaneously, I sent a mail to the managing director of the bank, first via LinkedIn and then by sending out email or several addresses I thought must be his. I also tried to post a complaint on the bank's website, but the website didn't give me an option to write a complaint as my complaint didn't fit the standard options listed in drop down menu. My problem was resolved within 24 hours, emails from MD landed up in my mail box, the bank manager called and then visited me.
c.       My credit card issuing bank had been giving me hell by not responding. My complaints over phone went unheeded. I sent email to everyone I could find on their website to write to, threatening to write to Banking Ombudsman and RBI. Within a couple days I got a response. Eventually, my problem was resolved.
d.      We bought 5 computers from a leading brand for our office. Most of them were giving us trouble. Several complaints went unheeded. I told my aggrieved colleagues to post the complaint on the brand's Facebook page. It worked!

As above examples demonstrate, customers can get brands to pay attention to them far more easily and effectively than they could earlier. Negative stories can be reached to thousands of people within minutes via Facebook and Twitter.
While social media presents customer an opportunity to get brands to pay attention, it also present

brands an opportunity to actually take good care of their customers, and get the same customers to circulate 'positive' stories. It works both ways, and brands must open themselves up to their customers.
Here's a small list of things brands can do to improve customer care via help lines:
1         ALL calls must be answered within 15 seconds. Thanks to advancement in technology, it's possible to calculate the number of callers one would need to deploy at each hour of the day, so callers and systems can be tuned to handle all incoming calls within 15 seconds. But unfortunately, most brands measure efficiency as cost saved instead of measuring their efficiency in reducing the time customer has to wait before she's attended.  Have you wondered how McDonald's is able to hand you over the counter whatever you order 9 out of 10 times within seconds? How do they manage to keep everything ready at all times? Simple. Because, they have invested in sophisticated analytic tools to predict the likely demand for each of their products each quarter of an hour for each day of the week!
2         Calls must be answered by persons, not machines. No recorded voice! All calls must be answered by a human being who simply says: 'Good morning. How can I help you?" Depending on what customers says, this executive can then transfer your call to relevant IVR option. HDFC Bank's credit card does exactly this. They don't use an IVR to asnwer calls. However, they do the next part all wrong. They ask numerous questions to verify your credentials. Like, your birthday to your mobile number to your  address and of course your 16-digit card number. To go through such rigmarole to check 'balance' can be painful.
3         If you can't get a person to answer, ensure option to speak to customer care executive  must be part of first sub-menu.  So if you wish to speak to an executive, you should be able to do by within a minute.
4         Enough executives must be deputed to answer phone calls. So we never have to hear she is busy attending to other customers. How flattering!
5         Customer care executives mustn't be jerks! Can they be given the power to solve customers' problem? If they can't, can they get us to their seniors who can? Jet Airways has customer care executives who take decisions. We've all heard of single window clearances? This is what a customer executive has to provide, at least in 9 out of 10 cases.
I think one government regulation, perhaps from TRAI, would be in order, especially for banks and telecom companies:  If the call is not picked up within 30 seconds, the errant company pays a fine equal to Rs.50/- for each unasnwered call.  Why Rs.50/- per call? In my estimate, this what a company might be saving by not attending to calls quickly enough. Once they realise they can't save this money anymore, they'll automatically beef up their call centers to deliver better service. Technology today allows us to measure the time taken to pick each call, so the rule will be pretty easy to implement.
I'd like to conclude by saying 'Customer Mubarak' (Thank you Egypt for showing the way!) and leave behind two messages, one for brands and the other for customers:
a.       As customers, we must make a lot of noise if we are not treated satisfactorily. Use internet. Use Facebook. Use Twitter. Write letters. Send an email to all our friends, describing our bad experience. Write a mail to editors of all newspapers. Post your complaints on websites like www.mouthshut.com.  I guarantee the brand will have to take notice, and resolve your problem immediately. Realise your power and act. I bet you've hear jago grahak jago!
b.      Brands must seriously focus on serving their customers. This must be demonstrated by action. By making it easy for customers to reach them, contact them, via website as well as helpline. Remember, if customers are unable to reach the brand at the moment of truth (when they feel un-served or cheated), they will begin talking to others. Better they share their problem with you before they tell others, especially your competitors.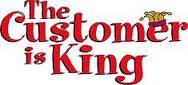 By the way, the title of this article is all wrong: long live king customer!