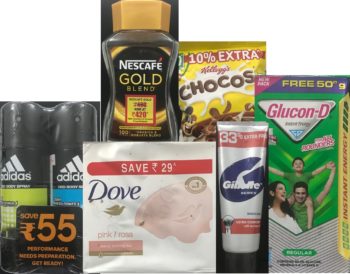 Most promotions have single objective – increase market share. The trigger could be sagging sales, competitive pressure, or,  simply a quest to build market share. Two things have to work in order to meet the objective – incremental purchase by existing customers, and large number of trials from lapsed or new customers.
While advertising spreads the word, the make-or-break moment is the point of sale, which often happens to be the store. In case of packaged products, the package sitting in the shelf has to scream for buyers' attention.
For decades promotions have remained much the same: Price-offs. Something extra- 10%, 33%. Free something (bowls remain all-time favorite). Bundling – two/three/four units packed (or bound) together. A different product for free – Kellogg's Chocos free with Mother Dairy milk, for example. Or a cross-promo, where consumer gets an offer on another brand.
Old favorite like sweepstakes has become passé due to logistic constraints. The government regulation that mandates 'game of skill' for sweepstakes has further dampened its popularity.
Scratch-and-win, a hugely popular promotion that offered consumers guaranteed prize on every purchase, too has lost out due to logistical challenges posed by ever increasing scale.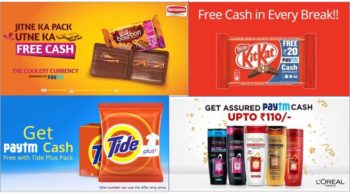 Seen any innovation lately? Last year promotions were abuzz with PayTM cash. From Coke to Britannia Bourbon to Kit Kat to L'Oreal to Tide. Printed on each product pack was a unique code – either hidden outside by scratch-able ink, or placed inside the package. Consumer had to log onto PayTM and enter the code. A valid code sent cash into customer's PayTM account. Really cool!
PayTM promotions have demonstrated that consumers respond to instant reward linked to reading and updating a code on pack.
What's happening in the developed world? Lots of innovation, driven by technology. What's come to stay are unique codes on packaged products. These are printed as alpha-numeric codes, or as bar or QR codes. The consumer has to update these codes online to earn the promised reward, which are limited only by imagination! Entry into sweepstakes. Instant reward. Points for each validated codes, leading to a plethora of rewards to pick up from: premiums, eGift Vouchers, guaranteed discounts on other in-house products, cross-promotions, and even experiences at special price.
A loyalty program is another option. The customer earns points linked to SKU he buys, with bonus points for specific months, days or dates. The rewards against these points, again, vary from discounts on future purchase to premiums to experiences.
The unique serial numbers on consumer durables, electronics, appliances, and the likes, too can double up as unique codes that can be used to drive disruptive consumer promotions.
The codes can also be linked to dedicated apps that read them, not only rewarding customer for buying, but for sharing their experience on social media as well. For example, a 3-month extended warranty could get customers to share their consumer durable ownership profile.
The most disruptive feature of unique codes is its ability to let brands run promotions on tap – turn them 'on' or 'off' anytime, or even change rewards at will. For instance, once a brand begins to have a unique code printed on all its packs, it can announce different promotions, or a new set of rewards, each month of the year. Also, promotions can be linkedin to festivals and special days.
New supermarket research by Hive in UK finds all the top FMCG brands – P&G, Unilever, PepsiCo, Nestle –  are using on-pack promotions to drive sales and increase engagement. Further, 49% of promotional tools used by in-store are unique codes, and 25% require online entry. Just 8% used vouchers, showing a shift toward new technologies from traditional cut-out coupons. Two categories, alcoholic beverages and breakfast cereals, stand out in their use of unique codes. 
According to Institute of Promotional Marketing (IPM), almost 60% of promotions surveyed were unique code enabled, providing a strong proof of purchase method that allows companies to precisely target promotions that drive sales. Confectionary brand McVitie's made a cost saving of 80% by using unique code technology, and increased their frequency of purchase by 30%.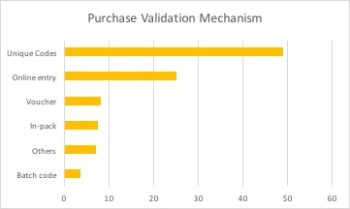 P&G runs on-pack program for its diapers brand Pampers across multiple markets the world over. The customer can scan the code online. Each code earns the customer reward points. The accumulated points lead to catalogue full of exciting rewards and offers. Millions of customers are enrolled into the program, with 18 million following Pampers on Facebook. Which means P&G is engaging with so many of its customers 1-on-1.
Code-on-pack answers prayers of marketers looking to disrupt promotions. It does away with the dependence on trade, bringing them unfettered flexibility to create promotions that connect them directly with consumers.
The standard, present day in-store promotions involve advance planning and manage unwieldy logistics – package design, printing, re-sizing cartons, arranging and shipping premium. Brand marketing team has little by way knowing how well the promotion may be doing on ground as no data flows in. Once committed to it, the promo has to run its full course, no mater what as packs have been printed and distributed.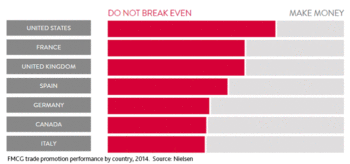 A study by Neilson in 2014 found that majority of promotions lose money. Which means, while consumer and the channel gains, brands ends up high and dry.
The code on pack driven promotion, on the other hand, can be planned and executed literally on a fly.  There are no logistical challenges to meet. Nor commitment that forces brands to run full course.
Amongst the benefits it offers, the most powerful  is related to trade: it eliminates dependence on retail and distribution. Allows real time tracking. And for the first time ever, gives customer data to the FMCG and other packaged goods marketer – who is buying, how much, how often. Whether the customers are new, lasped or existing? And with the data in hand, the promotion creates an opportunity to strategically engage with customers. Responding customers can even be targeted new promotions 1-to-1, without any mass media support.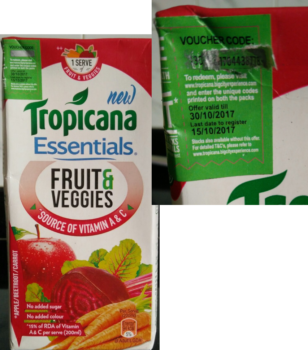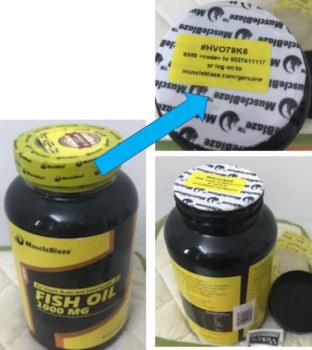 What's holding back code-on-pack? 
Technology?
The technology to print unique code is already available, though not widely used in India. Pepsi and Coke are already using it for code 'under the bottle crown' promotions.  Some brands of GSK are using it to help buyers authenticate the 'genuineness' of medicines bought.
Robust technology to execute code-on-pack promotions securely, and manage scale that touches millions, is now available in India. It can be used to run any kind of promotion: sweepstakes, instant rewards, points or contest. The generation of encrypted codes, their online validation, creation and management customer's account and rewards catalogue, and the fulfilment of rewards – all these can now be executed seamlessly. Qwikcilver, an Indian tech solutions company, managing over 300 million digital Gift Card transactions annually, leads the market.
Promotions needn't be staid, repetitive or limited by logistical constraints. Use of unique codes can disrupt promotions. It's time to imagine promotions afresh.
Additional Reading:
How Smart Codes deliver Smart Promotions
Refreshing customer loyalty through promotions