I live in Bangalore. I'd happily leave my car at home and use public transport. The bus service is excellent. There are plenty of air-conditioned buses plying all around the city. Economically priced, comfortable to travel, these buses stop wherever you hail them. The city also celebrates a bus day on 4th of every month to encourage more people to leave their personal vehicles home.
Yet I don't, clinging onto my car.
Because,  there are just no footpaths.
And whatever little is there, is certainly not in a shape that someone can walk on.
No wonder, the little distance from my building to the nearest bus stop seems so painful to cover. The footpath is broken, muddy and narrow. Patches of the path showcase human and animal excreta. Urinal smell is omniscient.
If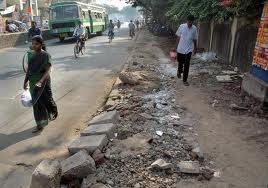 one happens to stumble upon a footpath that's clean and well laid, you are sure to find vehicles parked on them. If that's not the case, hawkers would have already claimed these as their right to do business!
Over to Mumbai.
Last week I spent four days in Mumbai.  As most of my meetings were scheduled downtown, I decided to lodge in a hotel close to Churchgate, barely 100 meters from Marine Drive.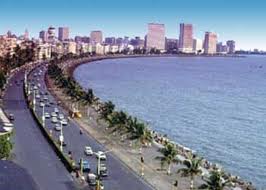 It's not the sea view I cared much for. It was the beautiful, 100 feet wide footpath (as wide as a four-lane road) alongside Marine Drive that brought me joy. The path was in perfect shape, not broken anywhere. Strangely, it was clean.
For three days I woke up early to walk along side Marine Drive. The sight there was worth beholding:  no less than a thousand people! walking, jogging or simply enjoying the sea. Many of them had even brought their dogs along!
In fact, almost the entire downtown area around Chuchgate has wide footpaths. What a joy to walk, despite hot and humid weather of Mumbai!
Contrast this with Bangalore.
Beautiful weather all year round. Cool and breezy. Most roads lined with old leafy trees. But, no footpaths to walk. What little exists, is being demolished to allow the roads to be widened, mostly by a couple of feet.  Many trees are being chopped. More than 2,500 have been sacrificed to widen roads in the last five years alone. Worse, these widened roads have no footpaths beside them!
I've seen Delhi go the same way. It has wonderful infrastructure. But if you observe closely, you'll discover it's only for the cars. If you aren't driving a car in Delhi, you don't exist! You are an absolute  non-entity. You have no business of using the road!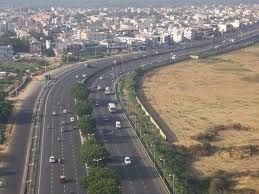 Take Gurgaon. India's latest and most modern city. Gurgaon has built from scrtach over the last 25 years. But there are no footpaths. Absolutely none!
I won't be surprised to learn that car manufacturers pay the governments to construct wide roads. More cars, more revenue, and more money for the politicians as well – another virtuous circle.
Can we come together and fight for our right to reclaim footpath – our three-four feet wide little haven on road? How can we do it? I have no idea except to go to the court. Do you have any ideas or suggestions?
My colleague Rita Dutta has posted a comment on her own blog. It's very interesting, and extremely well narrated.