You walk into Croma to shop. You look around, find what you are looking for. Discuss with sales person. Negotiate price. Then decide to buy.
"Sir, we have an offer – you can get 10% off," the sales person informs you rather gleefully. "Do you have Axis bank credit card?"
"No. I have an ICICI bank card."
"Oh. I'm sorry sir. Offer is only on Axis card."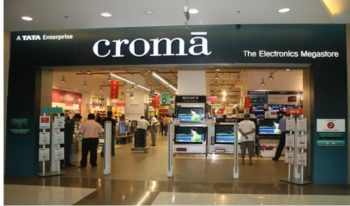 "No offer on ICICI card?" you ask, disappointed.
"On ICICI bank you can get Rs.1000 instant cash back plus two movie tickets."
"That's great. Then I'd like to buy using my ICICI card," you beam.
"Sorry sir, ICICI bank offer is only valid on Thursdays. Today is Tuesday. You can return on Thursday to avail the offer."
"Damn!" you mutter.
On closer examination, you find Croma has an offer on several credit cards, but only on a specific one for each day of the week. For example: Axis bank on Tuesday, Kotak on Wednesday, ICICI on Thursday, HDFC on Friday, and so on. How silly can you get – turn a customer away, and hope he'll return on a specific day to avail the offer?
If you think Croma is the only idiot around. Check travel portals. Almost all of them have similar offers.
10% cash back on a X credit card for all bookings made on Monday, till 11.59 pm.
15% or Rs.500 off on Y credit card for bookings made between 10 am and 2 pm on specific days of the week.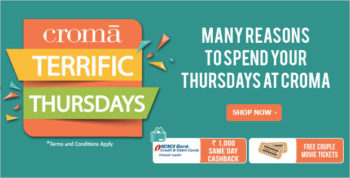 Ridiculous!
Or look at a plethora of unbeatable offers on Bookmyshow.
Nearly 60 offers are listed. If you decide to go through the list, and also check the terms and conditions of some of the offers you like, you'll perhaps lose interest to watch a movie. Most offers are plain silly, others fool customers, and yet some others are the ones you'll never be able to avail, thanks to T&C. The few occasions I've tried, I've failed. Of course, there still are a few nice offers, but then it's a question of you how much effort and time you'd like to invest in getting yourself Rs.100/150 off, or equivalent!
I'd like to talk specifically about offers valid for specific day or time of the week.
Very smart on paper. Seem to solve real problem.
"Hey, data shows we have a 20% drop in traffic on weekdays, specially Tuesday to Thursdays between 1 and 6 pm. Let's do something to build traffic," the marketing team brainstorms.
So, an offer is created. "We can give up to 5% off," informs their manager. "Figure a creative way to communicate this to customers," he advises.
But the bigger problem is database. So: 'let's tie-up with a credit card'. The bank sends the offer out to millions of its customers. Few see it – remember – email open rates barely cross a 1%, and no one reads SMS messages anymore. Yet, swipes against that particular credit card go up! The marketers in the store congratulate themselves for thinking fast and smart. The credit card alliance head, meanwhile, takes this as a feather in her cap. Before long, store's brand marketing team has an offer for every credit card on each day of the week!
But actually, the offer could be doing more harm than good.
The response is actually from walk-in customers ready to buy. When they see an offer on a card they hold, they are rejoiced, and present it for payment.
However, there is a flip side to this too. Larger number of customers who don't hold the card walk-out without buying anything when they discover the offer is limited to other days of the week. Bad luck, Mr. Store! But nobody in store's marketing team gets to know this. Remember, cards swipes are up!
Overall, transaction numbers against each card show a rise. But overall sales?
My guess is Croma loses more sales than it makes due to such offers. It's lost mine several times. Once I discover I'm shopping on wrong days given the card in my wallet, I march out without buying. Do I return? Rarely. I simply go online – I've already checked the product. Or, I visit another store. Even more often, I simply drop the decision to buy, as most of the time I discover (in hindsight) the purchase is neither critical nor important.
This is the moment of truth!
Worse, if Croma is funding these offers – I'm sure they are – they need to re-think about lost sale and profits. A discount to a customer ready to buy can be avoided. Better used as loyalty points, which bring customers back. Or, it can be used to fund other more attractive offers.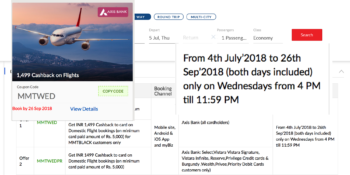 Similar offers by travel portals are even more ridiculous. Picture this: I visit MakeMyTrip to book an air ticket. I search offers, and find this gem: up to Rs.1299 cash back on Axis bank cards for bookings made between 4 pm and 11.59 pm on Wednesdays. There are two possibilities: I avail the offer with my Axis bank card (joy). Or regret, because I don't have an Axis bank card. Or, I have one, but it's not Wednesday!
Regret: If I care about not losing Rs.1299, my inability to avail the offer may drive me to check other travel portals (I've done this often enough, and on rare occasions found an offer for the card I have). What's important to note is that the offer encourages me to dessert MakeMyTrip.
Joy: I have an Axis  bank card, and happy to find the offer. Except that it's 10 am in the morning, and the offer begins at 4 pm. Do I wait for 4 pm, or check other travel portals? Or, just go ahead and book the damn flight?
Dear Croma, MakeMyTrip and other travel portals, and several others who make virtue of 'specific day, specific hour' offers,  your offers could be simply driving customers away. In fact, they are!