The year I turned 10 was 1972.
Speaking from the ramparts of Red Fort, the Indian Prime Minister thundered, "India is stronger today than it was 25 years ago.
"Our democracy has found roots, our thinking is clear, our goals are determined, our paths are planned to achieve the goals and unity is more solid today than ever before," concluded Mrs. Indira Gandhi.
She didn't mention anything about India's economic progress as we'd achieved little. Annual growth rate over 25 years was barely 3 to 4%. Average Indian had an income of about Rs.5,200 ($65) per year (it now stands at Rs.56,000, or $700).
Still, there were positives. The bicycle, telephone and schools had reached the villages. India now produced 11 times more electricity than it did in 1947. Surfaced roads had doubled and industrial production had grown 2 ½ times.
Nepotism was high. Corruption abounded across the country. Kickbacks on arms deal, taking cuts on government projects, acquiring land disproportionately larger than known source of income. Sounds familiar?
This was the year India celebrated its 25th year of independence.
I turned 10 years old the same year. I was in 4th  grade.
Amongst the things that I still remember vividly is my class teacher Mrs. Wallace. Dark, thin and cruel – she beat me a lot. In fact, she beat everyone.  I also remember watching my life's first cricket match on TV. I saw Tony Greig – the tallest cricketer of the time, standing 6 feet 6 ½ inches tall. Media was agog about his abilities. He didn't disappoint – scoring 68 and 40 not out and taking 2 wickets in a match which England won by 6 wickets (I didn't remember the score, I checked this in www.cricinfo.com)
Early this month, I turned 10. Again.
This time, I completed 10 years of being an entrepreneur. The company I founded and built – UCP or Up Close & Personal – was celebrating its 10th anniversary.
How did it feel?
In a speech I delivered to my 72 member team at Agra (we'd gathered to celebrate our 10th anniversary); I described my feelings. Reproduced below are excerpts:
"Not many businesses get to their 10th year. Across the world. In fact, the business mortality rates are really bad. Only 1 in 100 businesses actually reach 10 years. Reaching 10 years is like a trophy for staying there, in thick and thin. A prize for sticking it out!
"My business has given me a chance to manage my life and my career, at my pace. Nobody to report into, except myself. Wow! While this may sound fantastic, it's actually very difficult. Having a boss is an extremely fortunate thing. A boss directs and coaches; a boss orders and counsels, and most of all, a boss protects. But as my own boss, I enjoy no such luxuries. In fact, it's worse. None in my team dare question me. Even when they disagree!
"During the last 10 years, I've worked on 47 clients and had a chance to interact with over 300 executives representing them. I consider this as the greatest fortune bestowed on me.  The experience has left me richer and happier, with so many deep and wonderful friendships. The realization hit me by accident. My close friend Oscar once introduced me to one of his friend, saying 'Raj's social circle comprises only friends and clients. Either his friends turn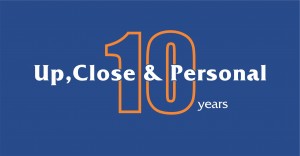 clients, or his clients become his friends'.
"During these 10 years, I've had over 175 people work for my company. 72 of you are here with me, and nearly half of you have spent more than 5 years in the company. Absolutely wonderful team I have!
"I had a chance to create history. Not by just doing great campaigns that beat average response rates almost as a routine, but to see all our clients refer us to their friends and associates. Believe me, there is no bigger joy than being referred."
Those are positives of being a entrepreneur. Here are the two greatest difficulties entrepreneurs have to manage 24×7:
1.       The venture rarely works the way one expects it to. Mostly, it survives (barely), trudging along. But worse, it doesn't get so bad that you may close shop. On the other hand, it also keeps throwing enough highs to keep you going.
2.       Spouse's support. Without this, no business can ever survive. At least, mine wouldn't have.
With 10 years gone by, I'm now looking forward to the next 10. And hope like hell, I experience more highs than lows this time around! 🙂