I booked a return air ticket for three family members of mine. A change in return flight had to be made. Changing cost: Rs.2,250 – Rs.750 per person. Or about 20% of ticket price.
Does it actually cost an airline Rs.750 when a passenger changes a flight?
Actually it costs them nothing. On the contrary, such a change improves their income.
A few years (before Air Deccan and internet changed the rules of ticket booking), we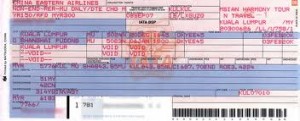 used to get paper tickets. If you wished to change your flight, you had to just visit airline's ticket booking office or your travel agent; they gladly did the needful.  In airlines parlance, this was called 'endorsement'.
What they actually did is pretty simple: access your booking and edit the date/flight. When they did that, the system generated an 'endorsement number'. They would then write this number on a little sticker and paste it on your ticket and stamp the sticker. This was a proof that the endorsement has been recorded in airline's ticketing system. The best part is that you could change your ticket as many times as you wished! Absolutely no charges applied!
What happens now?
You do airline staff's job via internet! Retrieve your own booking, and then edit the date/flight. However, to complete the 'endorsement', you have to pay a penalty of Rs.750 per passenger to the airline. On the spot. For every change you make.
So, in the former days, airlines' spent time and money (staff, office, sticker, stamp, effort) to handle endorsements, but charged nothing from the passenger. Nowadays, it costs nothing to the airline (the process being completely automated), and it charges Rs.750 per passenger for each change!!
Ironically, airlines used to make more profits in those days.
Airlines' argument:  change leads to loss of potential revenue.
Nothing can be further from truth.
Majority of tickets in India are booked 24 to 48 hours before the flight. These tickets are more expensive than those booked earlier. So, actually, when a passenger postpones his journey, he lets the airline make additional income on his endorsed ticket! As his seat is sold at a higher price.
Isn't this double whammy? We pay a penalty for changing flight that makes the airline extra money!
Wait, there are more charges coming.
When we endorse the ticket for another date, we may be asked to pay a 'difference' in fare. This is  applicable  if the prevailing fare on the new, changed flight is higher than the fare we'd have paid when we originally booked. In the event, the new, changed fare is lower,  I'm sorry to say but the airline doesn't refund the 'difference'.  So airline is completely protected.
While  I don't have statistics, I believe at least 10-15% of the tickets are endorsed. If that were the case, airlines would have happily gobbled Rs.375-550 crores in current year for endorsement of tickets from its hapless passengers!
By the way, Indian Railways charges a mere Rs.20 for changing your journey.
A penalty of Rs.750 for postponement or pre-ponement is ridiculous. Logically,  there should be no charge for changes in flight.
However, keeping in mind mindless changing some penalty is perhaps in order. In my view Rs.100 per passenger is more than enough, provided the change is carried less than 48 hours in advance. In other words, no penalty as long as the change is carried at elast48 hours prior to journey, and the new, changed flight is at least 48 hours later than the time change is made.
The second malpractice is fee charged for ticket cancellation.
Identical penalty applies – Rs.750 per passenger. If you've happened to book through a travel portal (like Yatra, Makemytrip, Cleartrip, etc.) then you have to pay a penalty to the travel portal as well – generally Rs.200 to 300/- per passenger. (By the way, same charges also apply for change in flight).
Again, the airline gains from cancellations. Because the ticket cancelled by you is generally sold to the next passenger at a higher price.
Then why charge for cancellation? More so, as airline allows you to cancel up to two hours before the flight, they actually make a tidy sum by re-selling the ticket – the tickets sold a couple of hours prior to the flights are most expensive.
From airlines point of view, cancellation penalty is desirable. Because,  if there were no cancellation penalty, people will just book and block a ticket (like we book train tickets), and cancel it only at the last moment? (By the way, in former days, there was no cancellation fee).
While, this is possible, it's highly unlikely. For two reasons: First, air tickets are expensive, and I doubt we'll like to block so much money to hold them. Second, even if we did, airlines should be happy get some free cash flow!
I think, a smarter solution would be have tiered penalty for cancellation. Ranging from nominal to moderate. Example: Rs.50 for cancellations up to 48 hours in advance; Rs.150 for cancellations up to 6 hours in advance; and Rs.250 for cancellations up to 2 hours in advance. Moreover, the cancellation fee must be shared between travel portal and the airline in whatever ratio they wish. To make customers  pay extra to  travel portal separately is hara-kiri, considering that the travel portal is airlines' agent.
Malpractice no.3 is funniest. Picture this:
I picked up an Arrow shirt. The price tag said the following:
Base price        Rs. 750
Fabric              Rs. 400
Stitching          Rs. 150
Buttons           Rs.25
Collar              Rs.50
Packing           Rs.25
Excise              Rs. 160
VAT                Rs. 195
Total:              Rs. 1755
Do you find that funny?
Now look at the following:
| | |
| --- | --- |
| Base Fare | 2,795.00 |
| | |
| Passenger Service Fee | 221.00 |
| | |
| Airline Fuel Charge | 2,600.00 |
| | |
| Transaction Charge | 50.00 |
| | |
| Tax | 0.00 |
| | |
| Total SSR | 750.00 |
| | |
| User Development Fee | 260.00 |
| Total Price | 6,676.00 |
| | |
| Transaction Fee | 323.70 |
| | |
| Total Payment | 6,999.7 |
Equally funny? Yet, this is how an air ticket is sold to us.
(Click on link below to watch video)
Absolutely fantastic depiction of how airlines fool us on pricing
This can be attributed to two reasons: Either the airline is trying to hide more than it reveals. Or, it's trying to justify the reason for charging us whatever they are charging on factors beyond their control? Poor airlines!
Such break-ups are not confusing but also make comparison of fares offered by different airlines tedious.  Don't you think it would be so much better if a single, all inclusive fare is quoted by all the airlines? I think so.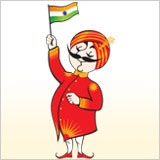 Well, like many other service providers, airlines too get away with many malpractices. Executed right under the watchdog (DGCA's) nose. The Civil Aviation Ministry too happily turns a blind eye to them. It's high time airlines are reined-in. Don't you think so?
PS:
This is my third post on airlines. Am I some kind of an expert?
Not at all! Just that I take 60-70 flights a year. The post reflects my experience as a consumer.