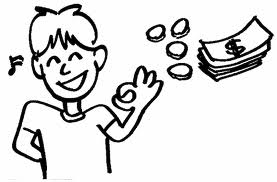 Actually, all of us can be rich by 36. All it takes are a few small sacrifices. And strong ambition: To be rich at 36.
I learnt this simple lesson from 23-year Kirtana, who joined our team 3 months ago. I only wish I'd deployed her strategy when I was her age.
Before I share her strategy, let's define a couple of rules.
First, a quote I love: 'I've been rich, I've been poor. Believe me baby, rich is best'. Think about this for a moment; let it sink in. 

Second, definition of rich: Rich is someone who doesn't earn the money he needs to meet lifestyle expenses as salary, professional fee or business income. I'll come back this one.
Third is 'how rich' is actually 'rich'? To my mind, if you can earn every month about the amount of money you earn during the 6th year of your career – say age 26 or 27 – without working – I'd say that's rich. For instance, most well-qualified executives earn 7-8L in their 6th or 7th year of your career. Now, imagine earning this amount without working! That's rich.
Now, let's turn to Kirtana's strategy.
"My father says if I save 33% of the income I earn, right from the day I begin earning, I'll have about 75L in my bank by the time I am 36 years old," says Kirtana.
Actually, this is moderate. Listen to second part of her strategy, in my words.
Invest some part of your balance income on risky instruments.  Like stocks, or equity focused mutual funds, or some land somewhere.  Of the three, investment in stocks is the smartest. It grows fast, and money remains liquid as you can exit anytime.
You may ask, "What if I lose?"
Yes, you can lose. In the short run. But you needn't worry, as all your savings would be sitting in secure assets, earning you a healthy return, and growing steadily. This 'risky' earning is only meant to be a bonus. In fact, you may view this process of  investment as a mere 'game'. Just play long, and enjoy the gains, without worrying about the losses. Remember, the more you play, the better you'll get!
Also, expose no more than a couple of thousand bucks a month on this game. You'll be surprised how much you do with that.
My estimate is that if you play this game for 12 to 15 years, you'd have a fairly tidy sum in your bank – at least Rs.25-30L. You may save this money, or, simply use it pay for your indulgences.
The two sums together can give you a crore in your bank by the time you are 36. That's the kind of money only a few have, even at 50!
There are two pleasant twists to this saga:
One: If you continue to save at this rate for another 4 years, i.e. till age 40, you'd have doubled your bank balance – to Rs.2 crores at least.
Two: If you are employed, which is the case with most people, you'd have about Rs.50L in your provident account too. This will happily take care of your security needs, including pension.
As I know of very few people who have actually managed to do this, I'd reckon it's difficult to do. I believe there are two challenges you'll need to overcome:
First, think of the 33% income as untouchable, like an EMI – sacrosanct, no default allowed.
Second, learn to want less, especially possessions. Or, simply postpone every purchase that's not a necessity. There's no harm announcing to the world 'I'm frugal'. They may laugh at you now…but you are bound to have the last laugh. If not sooner, certainly at 36!
Thanks Kirtana!