A fully grown tree, once cut, fetches up to Rs.25,000.
If all the fully grown trees in the country were to be cut, and sold, we can generate enough money to feed several crore poor households for at least a year.
The money generated will also give a major boost to our GDP.
A novel and wonderful way to tackle poverty!
However, what will we do the next year? With no more trees to chop, at least that source of income will be gone!
Instead, what we'll have are higher levels of global warming, droughts, floods, uneven rain and of course the entire Indian humanity of 1.2 billion people gasping for oxygen.
On the positive side, we'll have wide roads, a lot more cars and prosperity. We'll also have a lot more C02, rather, we'll be inundated with CO2!
It certainly doesn't seem to be such a good idea to cut trees.
Here are a few facts we must re-visit:
A fully grown tree, about 20 years old, produces oxygen worth Rs.3 crore a year! (See box for calculation). A living tree contributes 1,200 times more in just a single year than what a dead tree fetches. Over its lifetime, assuming a life of span of 40 years, a typical tree can contribute Rs.125 crores worth of oxygen. Thus, letting us live, and live.
A tree also eats up CO2, reducing carbon footprint. One acre of trees annually consumes the amount of carbon dioxide equivalent to that produced by driving an average car for 40,000 kms. Or, equivalent of burning 4500 liters of gasoline (petrol or diesel).  A type of ash tree (Melia azedarach) is the best performer:

ten trees on a street are able to offset CO2 from 10,373 vehicles per year

A tree holds even greater value in a poor and hot country like ours. Sit under its shade to escape sunlight and heat. Light breeze cools the air, especially useful in absence of power, which his often.  Sidewalks lined by trees let people walk in comfort, and rest when tired.Actually, the logic of preserving trees is so simple that it even a moron can't miss it.
Yet…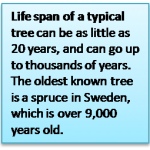 Some of the smartest and most intelligent members of our administrative machinery don't get it. They want to cut trees to widen roads in cities.
Bangalore has lost hundreds of trees in the past few years, all in the name of widening roads. Many of these trees were over hundred years old. Lined on both sides of the road, they gave Bangloreans reasons to believe they lived in a garden city.
Recently, hundreds of school children left their homes on a Sunday to protest against indiscriminate cutting of trees on historic Jaymahal Road. These children formed a human chain to draw attention to this blind quest to kill 856 trees! (Read the entire story here)
Such decisions are taken despite the experience that wider roads don't reduce traffic congestion. Check Delhi out: Delhi has roads on average two to three times wider than any other city in India. Yet, Delhi experiences more traffic hold-ups than any other city. China was in news recently for going through 60 km long traffic jam that lasted weeks, despite its fantastic road network. (Read the full story here)
Why wider roads don't reduce traffic congestion? Because, wider roads only results in more vehicles. And, soon enough we're back to square one.  But the tree that provided life, is now gone!
I believe cutting a tree is like digging our own grave. Actually it's worse. No tree would mean any wood available for our cremation, nor for making coffins. Quite tragic indeed.