Difficult Clients are a pain. They have unreasonable expectations. They demand too much. They are disrespectful. They can drive you nuts. To the extent that they can become a reason for you either quit your job or get your fired.
I speak with authority; I've handled over 500 clients managers.
While clients haven't changed, nor have their expectations, business has. The way we manage clients has. And the good news is that difficult clients can be turned into well-wishers, sometimes even into friends. .
Difficult Clients will tell how. Through Rhea's story.
Rhea, a business manager, is unable to meet her clients' expectations. While she believes her clients are being unreasonable, her boss is unsparing. He gives her an ultimatum: 'either change things or get ready to lose your job!'
Says Mathew Anthony, Educationist & Mentor – Marketing and Management Discipline, "The storytelling format with an evolving plot and sprinkling of key ingredients of relationship building makes it an easy read… Raj, given his background, has managed to codify his experience and observations into an effective self-help book."
Read it. It's less than 90-pages, and barely an hour of read. Read it now!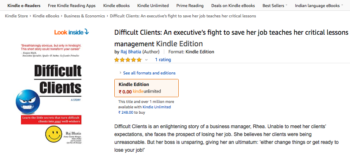 Buy the Kindle edition now! Rs.248/-.
Free for Kindle Select subscribers.