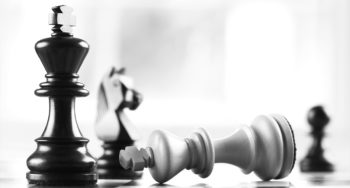 I'm not a political analyst. But I make my living working with data. I look for insights, and use them to create winning marketing strategies for my clients.
Looking at the data points over past few years, I believe Mr Modi is set to lose the 2019 battle.
For five reasons.
Back in 2014, Modi received an overwhelming mandate across all socio-economic segments, including Muslims and Dalits (Mayawati didn't win a single seat in UP). He garnered a vote share of over 45% in 10 states in North and West, sweeping 85% of the seats (see chart below). This time around, a significant number of the voters across segments are likely to vote against him. Especially,  Muslims, Dalits, farmers, unemployed and those who lost their jobs during demonetization. An erosion of a third of his vote share is quite realistic.

2014 Lok Sabha Results from 10 crucial states in North and West of India

Over the last 2½ years, BJP has lost several state elections, including three key states that brought them 95% seats in 2014 – MP, Rajasthan & Chhatisgarh. Some may argue that a state election is different from a national or Lok Sabha elections. It was. But Mr Modi himself has blurred that difference. He's personally campaigned in every state that went to poll, raising national issues, especially around security. Yet, he lost.  (Do you remember Dr. Manmohan Singh ever campaigning in state elections?).
BJP has lost 22 of the 27 Lok Sabha by-elections since it wrested power in 2014! A success percentage of less than 20%.  In fact, BJP's last major success was in March 2017, when it convincingly swept the polls in UP and Uttarakhand. Later in the year in November, it scraped through to form a government in Gujarat. These results indicate a growing disenchantment with the party and its leadership.
Opposition this time around is far better prepared. In 2014, they were fragmented, disoriented. They were too arrogant to appreciate the power of Mr Modi's oratory and his simple message  – ache din. Their communication strategy was a non-starter. For example, do you recall Congress campaign in 2014? This time around, the opposition is largely aligned. You may have noticed Congress' campaign? It's focused, sharper and smarter. BJP, on the other hand, appears to be dithering, unsure, with banal message pleading voters for an encore.
Ad guru David Ogilvy said, "Customer is not a moron. She's your wife." The same goes for voters. But the more I watch Mr Modi and his compatriots, the more I feel their disdain for voter's intelligence. I get an impression they truly believe that they can sway voters with gold, glitter and non-issues, cleverly skirting unfulfilled expectations they themselves set. Never works! They should ask Piyush Pandey and Prasoon Joshi; their advice would be no different.
I don't know how many seats who will end up winning, but I'm quite sure BJP will lose more than half the seats in these 10 crucial North and West states (see chart above). Instead of 248 the last time, they'll end up with around 120.
How many will they win in other states? Even if they double their tally over 2014, which is quite unlikely, they'll add no more than 68. Final figure would be around 180 is my sense.
I think it's time to look at India without the 'charismatic' Mr. Modi post 2019. It's apt lesson for future leaders: deliver what you promise, else perish.