Being a customer is a joy. You demand; others oblige. You ask, others give. You pay, others receive. What a high!
Here are three real life stories. You'll easily identify with the love for customers.
Story 1
I booked an air ticket for my colleague. In Indigo. Then mailed it to him.
Back came his reply. "You've got my name wrong!" I'd typed 'Jadhav' (wrong) instead of 'Jhadav' (correct).
I asked him if he has any ID proof in Marathi? This difference wouldn't be noticeable.
No, he didn't. Bad luck! Worse, this was his first ever flight, and he was nervous.
Only option left: cancel and re-book. Charges: Rs.750. Arrgh!
I thought let me request the airline. "It won't work. I've tried," advised another colleague.
Nevertheless, I called their customer support and explained the problem. The guy was polite, but didn't budge. "This is policy." "This is as per rules." Etc. I pleaded, requesting him to check from his supervisor. It didn't work.
I persisted. I got very upset (genuinely). I reminded him how much business I give the airline. "I book for myself and my colleagues and family, over 200 tickets in a year, check all booking under my long-in ID, blah blah." It didn't work.
My colleague Avantika, sitting across my desk, smiled. "I told you this won't work. I've been through it."
I was in no mood to give up. I was very unhappy about the airline's attitude to not accommodate such a minor oversight, rule or no rule. So I googled 'CEO Indigo'. Got the name. Then I found his fax number from airline website. I composed a fax and sent it to him.
Nothing happened.
Story 2
My ex-colleague and friend, along with her husband and their four-year old son, reached Bangalore airport to board a flight to Delhi. She had just concluded a beautiful, romantic holiday, travelling from Delhi to Bangalore by train, and then spending a week in Coorg. She was in great spirits.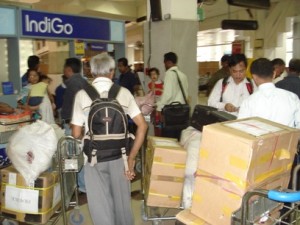 But surprise awaited her at the airport: she wasn't allowed to enter. Because? Because, she didn't have an ID proof. Her husband's ID and the fact that they share the same surname didn't help either. Security suggested if she gets her ticket stamped by airline staff, they'd let her in. She approached the airline (Spicejet) staff for help. They refused. She pleaded for several minutes. They didn't relent.
Desperate and upset, she began calling whoever she felt might be able to help. Basically, she was searching for someone senior enough in Spicejet who could call the staff at Bangalore airport and instruct them to help her. Forty-five minutes later, she was still stranded outside the airport, exasperated!
Story 3
A couple of months back, another colleague, Bhumika, quietly waited in queue to check into 6.15 am flight from Mumbai to Bangalore. Airline was Indigo.  As the long queue moved slowly, she yawned. She'd been up since 3 am.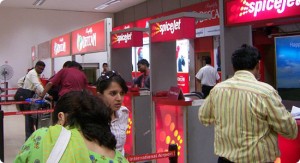 When she reached the counter, she was denied a boarding pass. Reason: she had forgotten to carry a print out of credit card used for booking her ticket. "No madam, without the printout you cannot be given a boarding pass," informed the staff curtly.  She was completely taken aback as she'd never been asked for such a print out on previous occasions. This was her usual route and she'd taken the same flight several times in the past few months. Her explanation didn't move anyone. Even her request to the manager proved futile. But he agreed to make a concession – deposit the amount equal to the value of the ticket in cash, now! and he'll let her aboard. She found this ridiculous! And told him so. But that didn't make him help her.
Did you see any love for customer in these stories?
I didn't.
But each incident offered the airline a chance to demonstrate love.
All they had to do was make an exception,  just go the extra mile.
An exception would have turned each of these customers into a friend. A friend is only likely to feel and speak better about you to others. A friend will also prefer
to fly her own friend, family or colleague in your airline than your competition's.
Yet…
But you may argue, what else could the staff have done? They simply followed the rule. The customers were
indeed wrong in each case. How could they have gone the extra mile?
You'll just see in just a bit, as each of these stories have a twist.
In the first one, where I'd faxed a letter to the CEO of Indigo, I was pleasantly surprised to receive a new ticket with corrected name. The 'ticket' mail was followed by another mail and phone call from Relationship Executive.
In the second one, my friend got an entry to the airport after someone she knew managed to get in touch with someone senior in Spicejet. This 'someone' called the airline's airport staff, and lo and behold, this simple phone call turned the uncooperative staff members into ones who were happy to stretch themselves an extra mile!
In the third case, my colleague Bhumika paid cash for the ticket and managed to board the flight. Ironically, no one asked her for print out of credit card on her return flight with the same airline, though she had carried the printouts this time. In fact, three subsequent flights she's taken with same airline, no such request has been made. Strangely, the morning she was fighting her entry with the airline staff, another colleague of mine flew in from Delhi, with no one asking him any printout.
Though the stories have a happy end, none of airlines managed to make friends with the customers. The customers, in each case, have lived to tell the sordid tale many times over to all, especially to their friends on Facebook.
The stories would have created a friend if the airlines' had made little exceptions in first instance itself. I can understand an airline needs junior staff to follow rules, but I'm sure managers should be taught or empowered to see the bigger picture.
I had to write a fax to CEO; my friend had to go through hell for 45 minutes searching for someone who could get her help; and my colleague was disgusted but in the end paid money because she had it in her wallet and didn't want to miss the flight.
The moral of the story is that the staff as well as the manager should certainly follow rules, but they must keep their eyes and ears open, be aware and respond to the context.
Examples:
I have booked over 200 tickets with Indigo in last 2 years. I am a registered user, and my entire booking history is visible in Indigo's system. The information is barely a click away. The executive or Manager could have made an exception by checking it out before giving his verdict. After all, the change cost them nothing, but would have cost me Rs.750.
My friend, who was denied entry into the airport, was travelling with her husband and their four-year old son. They had different tickets (booked at different times) but their surnames are identical. Couldn't the staff figure that they were a family, and make an exception about proof of identity? If the staff didn't, the manager could have.
The airline staff could have made an exception to my colleague Bhumika too. She mentioned to them complete details of the person who booked her ticket (that's me). The airline staff could have easily verified the information – name, mobile number and email.  She kept telling them she doesn't want to disturb 'the person who's booked the ticket', as it's too early in the morning. But they were in no mood to listen!
Making an exception is not so difficult after all.
Its just matter of training your staff.  In fact, about 10 months back, I was travelling with Bhumika from Mumbai to Bangalore. We were flying Jet Airways. When we reached the airport, she discovered she'd forgotten to pick up her ID proof. The security at the airport denied her entry. She approached the airline counter at the airport for help. The lady behind the counter looked at her for a second, smiled, stamped her ticket and returned it to her. Delightful, isn't it?