MLAs from BJP have 'rebelled'; opposition is demanding a 'no-confidence' motion. The rebel MLAs are holed up in Goa for past few days. I believe the going rate for either camp to get each MLA's support is Rs.40 crores!
This is the third time in the past 4 years such tamasha has taken place in Karnataka.  Similar circus went on for several months in Jharkhand recently.
It sure is a tragedy that this is happening.  But a bigger tragedy is that we have accepted it. We talk about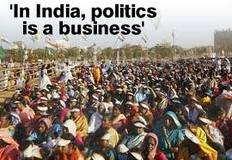 it as a joke; laugh, and then go back to our daily lives. The media too does it bit of shouting, then moves onto new a       story. This is exactly what the parliamentarians want. They want us to mind our own business while they go about their dhanda of enriching themselves.
Will we ever see an end to such politics in our lifetimes? Or in our children's lifetime for that matter?
Like you, I too have been searching for an answer for a while. It struck me, this morning, that there is something we can do to at least to stop coalition governments from forming!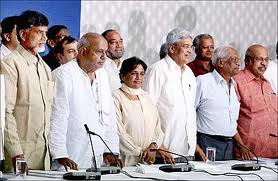 Coalition government is a democracy's greatest tragedy. It prevents a focused government from working, erodes accountability and worst of all, muddles-up election results. Just look at Sharad Pawar, Praful Patel and NCP. Or Karunanidhi and his son and daughter and telecom minister Raja. Or Lalu Yadav. How a handful of these coalition member the hold the government to ransom?
If we can have a simple two-party government, we would at last see some stability in governance. We may even end up having a stable and strong opposition. Both will reduce colossal waste of election expenses, both by government and candidates.
I've borrowed the idea from sports field. Not surprising, considering the constant public denunciation of roles played by politicians in preparing India to host the Common Wealth Games!
Here's the idea:
In every sport, we have several rounds of games to eliminate the weak players or teams. On the positive side, the rounds ensure that the best make it to the final. A final between the top and the second seed not only provides ultimate thrill, but also ensures that the best guy takes it all. The loser too gains in the long run as well – prestige, prize money and future opportunities.
Let's elect a government through a two round election process. In round 1, people will vote for parties, not candidates. The results are compiled to pick the two parties that get maximum percentage of votes. These two parties now field candidates across the state or country. Second round of polling takes place. And presto: we have a clear winner!
The greatest gain: the winning party can now function productively without having to appease people like Pawar and Lalu. As people, we can evaluate the government's performance clearly against the promises made.
Second gain is that the opposition now has role to play. A single party can speak in a single voice, and demand accountability.
Third: the riff-raffs and trouble makers fall by the side. So parliament can function smoothly – no walkouts, fist-fights and 'parliament rage'.
Fourth: the system is the fairest it can get, throwing up the most popular (by that logic the best) man to govern us. This is the best that's possible in the circumstances.
There is one big flaw though: Some very competent politicians representing smaller parties or contesting independently maybe left behind. This will make us function without their able and helpful advice.
We can reserve 10% seats for independents. These seats are not contested by the two main contenders.
There is second flaw. The two-round system doesn't prevent 'rebel' activity – the very reason that weakens the current system, forcing us to explore alternatives?
Solution: Ban dissidence. If anyone is unhappy, he or she may be welcome to simply resign, and the seat can then stay vacant till completion of the parliament term.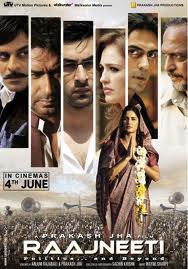 Flaw 3: Won't this increase the election expenditure?
Yes it certainly will. But this maybe more than compensated by lower election expenses by parties as there'll be no individual candidates in round 1 and only two parties in round 2.
Last flaw I see is: longer duration required to hold elections.
I think it may well be worth living with this flaw than to have fractured verdict or unstable government. Both these lead to unfair MP/MLA pricing, resulting in inflow of illegal money from vested industrialists or businessmen. The illegal money generates more illegal money as the politicians in power now  have to return this money to these 'Samaritans' by offering them plum contracts. Thus, perpetuating the vicious circle of politician-business nexus.
Let's get real. Coalitions have become commonplace, so have three-four parties in each state. two rounds of election would perhaps be the easiest way to break the norm, without actually upsetting our democratic set-up.
What do you think? I look forward to hearing your views.